Algorave April 8th – Lyon, FR
Reviewer: Rémi Georges
Event Organizers: Rémi Georges / Bubobubo (Raphaël Maurice Forment)
On April 8th there was a big Algorave event in Lyon – the largest Algorave France has ever seen! 12 straight hours! We also had Euronews cover the event and publish a video: Euronews coverage of Lyon Algorave.
Every live-coding practice from every part of France was represented. There were multiples languages and multiple projects including some bespoke setups or mostly unknown live-coding tools. Since it was a satellite event for the ICLC 2023, artists from outside of France were also invited.
The Venue: Grrrnd Zero
The night was possible thanks to Grrrnd Zero. The name designates both the place and the human nebula that makes it live. It also designates a metaphysical concept – that no modern philosopher has yet been able to define precisely without pulling out their hair. GZ has been in existence for 15 years and has been based in Vaulx-en-Velin for 4 years. It recently opened a new venue and its programming is developed collegially, with enthusiasm, eclecticism and high standards: concerts, screenings, canteens, exhibitions, and evenings supporting militant causes. GZ supports the do-it-yourself culture, and practices that fall outside the profit logic. There are studios, workshops and offices for rehearsing, printing, editing, drawing, sewing, tinkering, cooking, informing, broadcasting, day and night. GZ is self-managed, with no operating subsidy, and thanks to the dedication of dozens of volunteers who strive to provide the most decent conditions for both artists and the public.
We had quadraphonic sound, designed and calibrated by our sound engineer for the night Julien Hugues and a light set made by Alexandre Hoareau. Analog visuals were made by Syntonie and Ralt144MI on cathodic screens with a set design by Plasma Punk. There were two projections screens, one at the back of the scene and one between the two rear loudspeakers of the quadriphonic sound set. Euronews also came to make a small video report (~2m30) and interviews. It will soon be online.
Performances
Here is our lineup board for the evening: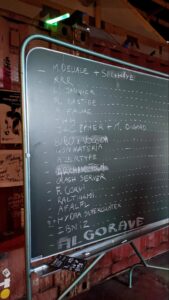 Dellale / Lahaye Duo (Angers)
The nights started at 6pm and first up was a concert film by Mathieu Dellale and Sebastien Lahaye. They presented a live coding performance enriched with visual interactions. The film they were live coding was a compilation of animated films made by their students.
(photo: Léa Buisson)
Sébastien Lahaye is a teacher-researcher at the University of Angers, in the "Automated systems and computer engineering" speciality of the Polytech-Angers engineering school. His research activities at LARIS focus on the optimization of dynamic systems. Mathieu Delalle is an artist-author. He is a professor at the École supérieure d'art et de design TALM-Angers. His practice is heterogeneous in its construction and dissemination, it is not opposed to anything, except perhaps to a border logic that takes into account the lines of separation between disciplines and know-how.
For several years, this duo has been interested in questions of interaction with live-coding performance. These questions have been developed and experimented with in the research and creation workshop "Not a Number" that they have been leading since 2015.
RRR (Porto / Niort)
They were followed by RRR, a duo with Pierre Pierre Pierre using SuperCollider and Rui Leal playing hurdy-gurdy. This was a pure meditative and drone moment that caught up the audience for 40 minutes.
(photo: Rosette Thierry)
Léo Janvier (Angers)
Léo Janvier started playing with minimalist sounds, with Steve Reich-ish patterns morphing to some quasi dance music. Léo uses Foxdot and was one of Mathieu Dellale's and Sébastien Lahaye's students who graduated from the École supérieure d'art et de design TALM-Angers.
(photo: Emilie Breslavetz)
Raphaël Bastide (Paris)
This set was a singular and really impressive performance. His live was a very engaged mixing of his synthetic voice and beautiful text. Some visuals were made out of glitching SVG graphics of multinational companies. Raphaël performs with été, a software program he distributes under a free license. Été plays synthetic sounds generated in the web browser and transcribes the keyboard writing into percussive events.
(photo: Lucie)
(photo: Emilie Breslavetz)
Adel Faure (Auvergne)
Adel Faure was next, who is an ascii artist and musician playing on his software, OSCII, where ascii and glyph drawings become oscillators. This was a very poetic live set where little visuals stories are written on screen and made into music.
(photo: Rosette Thierry)
th4 (Lyon)
th4 played a "from scratch" live set using Tidalcycles. She made all the audience dance with a very technoid sound and tidal-ish harmonic progressions.
(photo: Rosette Thierry)
Jules Cipher / Martin Digard (Paris)
Jules Cipher played with the drummer Martin Digard. This was a very progressive rock/jazz moment. The use of spatialization was very precise, which is typical of Cipher's works. And the use of the drumset was impressive when mixed with the live-coding. Cipher uses a custom Foxdot version with some Reaper Bindings and other add-ons and tools.

(photo: Emilie Breslavetz)
bubobubobubo / Vocoda (Lyon)
Bubo played a hard techno set with some harmonic ethereal moments, and Vocoda was making some IA-generated visuals focused on sardines and other fishes. Bubobubobubo has been working hard on the new Sardine live coding environment.
(photo: Emilie Breslavetz)
nonmateria (Bologna, IT)
nonmateria came from Bologna to play some ORCA deconstructed beats, this was very dancing and very impressive.
https://drive.google.com/file/d/1cUc6QqzoPSbFe996Xx6xfU4BC5nsQIQb/view?usp=sharing
azertype (Paris)
azertype played also some hard beats with ORCA and with Bespoke, the audience really enjoyed it. azertype sometimes went off stage to smoke in the audience and enjoy his own music with everyone. This was a very live performance.
(photo: rosette thierry)
(photo: Emilie Breslavetz)
archaic.tech (Brooklyn, NY US)
archaic.tech came from the US to play TidalCycles, and it was really intense, with the use of voice samples and other things that created a really great live set.
Crash Server (Strasbourg)
The Crash Server duo played a really HARD Techno set, with some hard kicks and some humorous dancing. They use FoxDot and OpenFrameworks, they also controlled the light using DMX.
https://photos.app.goo.gl/bbwXcCY8ESbkc9sK7
Francesco Corvi (The Hague)
Francesco Corvi played some deconstructed techno/IDM using TidalCycles, it was heavy beats and really cool dancing stuff.
Hydra Supercluster
Hydra Supercluster, a duo with live-coding on C-sound by Jacopo Greco d'Alceo, and modular synth by Johann Philippe. It was a very evolving live with some synthesized sounds.
afalfl 
afalfl, mixed up a lot of tools (multiple Orca programs and bespoke patches) and created a very deconstructed techno. Catching up the audience with his scenic presence.
(photo: Emilie Breslavetz)
Ralt144MI (Rémi Georges, Lyon)
Ralt144MI, it was a short set, because the night was already well behind schedule. I played some chiptune songs and some covers made with Ziffers and Sardine. And Techno/chiptune covers, as jokes, like a cover of La Montagne by Jean Ferrat (a well known french singer from the 80') or a cover from Zouk la sé sél médikaman nou ni by Kassav', the famous song from the zouk musical movement pioneered by the French Antillean band Kassav'. And we started cleaning the venue while I was making this zouk cover.
(photo: Emilie Breslavetz)
The event started at 6 pm and lasted until the next morning at 8 am! We were all exhausted, but so excited to be part of such a great Algorave!